Photo by Joseph De Leo; styled by Sarah Copeland
Breathe some fire into your winter routine -- it's still Valentine's week after all. Dried chiles offer a welcome respite from the late winter blues with lingering heat and a promise of warmer weather meals. Use this guide to navigate the wide open world of preserved peppers.
Commonly Found Dried Chiles
Ancho is the poblano ripened to a dark red and then dried.
Anchos are the most widely used dried chiles throughout Mexico.
The chile is flat and wide (about 3 inches) with shiny, flexible, reddish-brown, wrinkled skin.
Its heat ranges from nearly mild to hot. Anchos are usually significantly hotter than their fresh counterparts.
The ancho has a sharp, fruity flavor.
Anchos are sometimes confused with the look-alike mulato chile. Identify the ancho by its deep red color -- the mulato has a decidedly brownish hue.
The ancho is most commonly used lightly toasted and soaked and then ground smooth with other ingredients for cooked sauces. It can be quickly pickled or rehydrated and stuffed.
Cascabel is a small, round chile, about 1 inch long and 1-1/4 inches in diameter.
It has smooth reddish-brown skin and its seeds rattle inside if shaken -- thus the name, cascabel, which means rattlesnake.
It is moderately hot with a deep, earthy flavor.
This chile is excellent toasted and used with its seeds in a rustic table sauce or in a cooked sauce made with tomatoes or tomatillos.
Chipotle (sometimes seen as chilpocle or chilpotle) is the jalapeño, ripened and smoke-dried.
It has tough, leathery, wrinkled, light-brown skin with subtle, golden webbing.
Chipotles are very hot and have a fruity, smoky flavor.
It can be used whole, chopped, or puréed to season broths and soups.
The Mexican chipotle crop is primarily destined for canned chipotles en adobo.
De Arbol is long (about 3 inches) and skinny with bright, fiery red, smooth skin.
This exceedingly hot chile's name (Spanish for "treelike") makes reference to the woody stems attached to the fruit and the tall, leggy plant on which it grows.
This chile can be toasted and ground with other ingredients for a piquant table sauce or added to stewed beans.
Chiles de arbol are most often lightly toasted and ground to a powder for sprinkling on peanuts or vegetable platters with a squeeze of fresh lime juice.
Guajillo, along with the ancho, is one of the most frequently used dried chiles in Mexico.
It has a smooth, tough, dark-red skin with purplish tones.
The chile is long and narrow, tapering to a point (about 5 inches long and 1-1/2 inches across its widest point).
The guajillo's heat follows a spectrum from pleasantly spicy to fairly hot.
It has light tannins and subtle berry flavors.
Guajillos are frequently ground to make a seasoning paste or cooked sauce for meats. Be sure to strain the sauce through a fine mesh strainer to remove any bits of its especially tough skin.
Pasilla is the chilaca ripened and dried.
The pasilla is about 6 inches long and 1 inch wide, it has shiny, black, wrinkled skin with vertical ridges.
Its flavor is rich but sharp and slightly tannic.
This chile is typically toasted or soaked, then blended smooth with other ingredients in cooked sauces.
How to Select and Store
Choose chiles that are pliable but completely dry. If the only chiles available are dried to a crisp, use the rehydration techniques outlined below (brittleness may indicate excessive age or improper storage).
Do not purchase dried chiles that are damp. Damp chiles have been incorrectly preserved or may be doctored up to increase weight (and total cost). Any moisture during storage can cause mold to form.
Store chiles in a cool, dry place. Chiles can also be frozen in a freezer-safe airtight bag.
Preparation and Usage
Dried chiles can be dealt with in one of two ways: toasted until rendered flexible or rehydrated with hot water. Use gloves when working with dried chiles and carefully wash your hands before touching anything other than the food you are preparing.
How to Toast
Add whole chiles to a hot, dry pan (cast iron is great for this process) and turn chiles with tongs until evenly toasted and pliable.
Toasting chiles is a great option if you plan to cut the dried chile into strips before adding it to a sauce or braise. Use scissors for this step as dried chiles are very tricky to cut with a knife (see photo below, left).
Toasted chiles can be ground into a powder using a spice grinder or mortar and pestle.
Chiles can also be toasted before being rehydrated in order to boost their naturally nutty flavors.
How to Rehydrate
Pour boiling water over whole dried chiles and let them steep until very soft, at least 15 minutes.
Once the chile is soft, but not mushy, remove it from the water and let it cool slightly.
At this point, remove the chile's stem and slice it open to reveal the seeds. Cut away the seeds and internal membranes, then chop the rehydrated chile, or blend it into a smooth purée with some of the rehydrating liquid.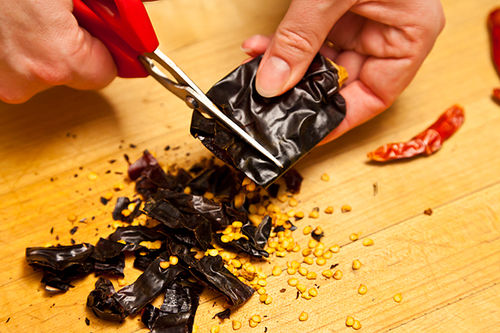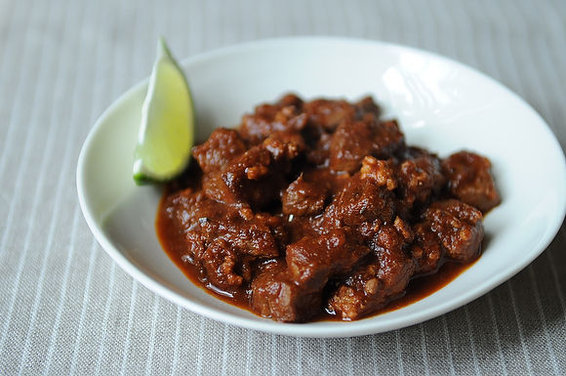 Photos by Sarah Shatz
Recipes
Spiced Sweet Potatoes
Harissa
Mexican Chicken Soup with Ancho Chiles
Chicken Curry
Roasted Carrot Harissa and Crème Fraiche Crostini [FOOD 52]
Rio Zape Beans with Toasted Chile Sauce [FOOD 52]
Amped Up Adobo [FOOD 52]
A Bowl of Red [FOOD 52] (pictured above, right)
Like this post? Check out last week's From Scratch topic: Healthier Treats for Valentine's Day.