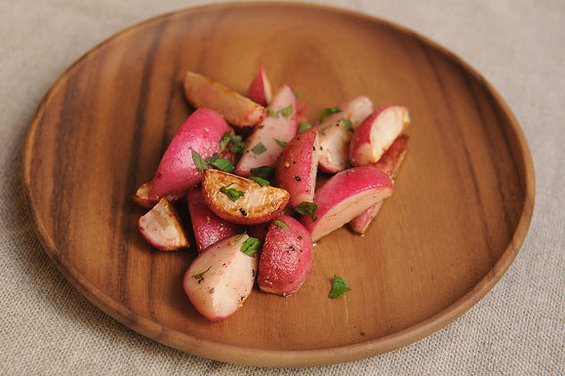 Photo by Melanie Einzig
If you want to eat like a French person, consider slathering sliced fresh spring radishes with the best butter you can afford. Then sprinkle the whole lot with flaky sea salt, or better yet, that fleur de sel you've been saving for just the right moment. It may seem oversimplified (is there such a thing when it comes to food, though?), but it works thanks to butter's richness, which rounds out the biting edge and pungency of the radishes. Butter, it seems, truly does make everything taste better. But what about brown butter?
Made from butter cooked until the milk solids sink to the bottom and turn golden brown, brown butter is imbued with transformative powers, imparting a distinctively nutty and dark caramel-like flavor (minus the sweetness) to everything from vegetables, fish, and pasta to cakes and granola. Like pretty much everything else, brown butter, or beurre noisette (literally "hazelnut butter"), sounds magical in French. And perhaps it is, with its ability to so singularly enrich such a variety of foods, both savory and sweet, so inexpensively and with such minimal effort. Indeed, if you have a pan and a stick of butter, you can make brown butter. Just be sure to watch carefully and pull it off the stove as soon as the mixture starts to give off a toasty aroma to prevent burning the milk solids. Just keep it over medium heat and you won't encounter any trouble.
Now, let's revisit those radishes and butter. It's like déjà vu, only this time, liahuber caramelizes the radishes in that brown butter you've now mastered, subduing their sharp, raw edge. She enlivens the pairing with a spring-evoking flourish of chopped mint, which should be sprinkled on just before serving to avoid the unbecoming darkening that can occur when mint encounters heat. What you're left with is a dish that is both enticingly browned and cheerfully pink, at once buttery and light.
Sautéed Radishes with Mint by liahuber
Serves 4
1 tablespoon extra virgin olive oil
1 tablespoon butter
1 pound radishes, trimmed and cut lengthwise into 1/2-inch wedges
1/2 teaspoon sea salt
1/4 teaspoon freshly ground black pepper
2 tablespoons mint, roughly chopped
See the full recipe at FOOD52.
• • • • •
Wine Pairings:
I love the fresh spiciness of radishes. They have that quick heat like horseradish before they fade into almost a sweet apple or pear flavor. They are one of the best vegetables to have on the plate with rich cuts of beef and pork. For a stand alone dish, especially with an herb like mint, you'll want a white wine that is both fresh and lithe, but also textural and rich on the palate. My go-to wines here are Grüner Veltliner and Friulano, both dynamic and herb- and mineral-driven. Lately, I've been drinking Pinot Blanc from Alsace and Germany. It's similar to Friulano in terms of body, but with more apple and pear aromas and flavors. It also has a green flavor quality that matches well with mint and basil.
Top Picks
2009 Koehler-Ruprecht Pinot Blanc, Pfalz, Germany
2009 Bastianich Friulano, Friuli, Italy
How would you make this dish your own? What main course would you serve alongside it? Share your ideas in the comments section below.
Like this post? See the Easy Everyday topic from last week: Salmon and Avocado Toasts.