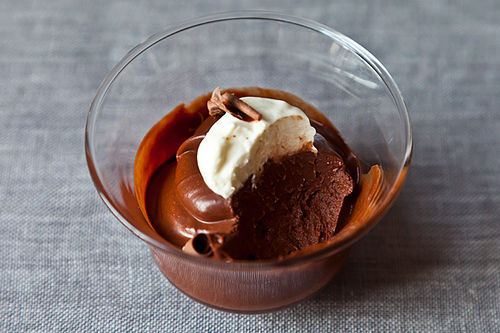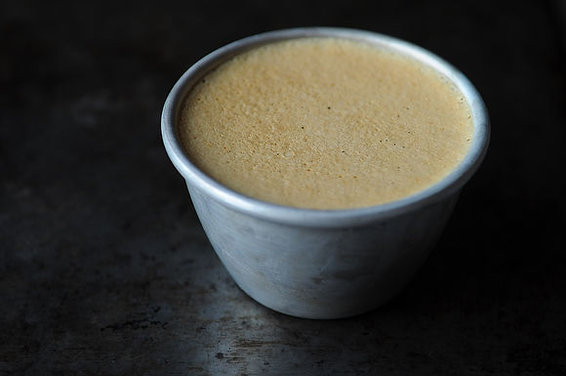 Hervé This' Chocolate Mousse and Burnt Caramel Pudding. Photos by James Ransom (left) and Sarah Shatz.
Uncompromisingly Good Passover Desserts
Cue the scary music. As the tempo builds to a furious crescendo, a terrifying image from the past appears sporting a spiral perm, fringed with big, teased mall bangs sprayed into submission with half a canister of Aqua Net. High-waisted, acid-wash Jordache jeans worn with an off the shoulder neon pink crop top complete the frightening visual. For some, bad hair and fashion flashbacks are truly nightmare-inducing, while others struggle with horrifying food recollections, honing in at this time of year on Passover desserts. Cue more scary music as memories of sawdust-textured sponge cakes and iced cardboard dry brownies come flooding back.
During the eight-day stretch of Passover, wheat flour and leaveners are prohibited. These leaveners include yeast, which works through fermentation. And though there is some debate about their acceptability, most observers avoid baking powder and baking soda to maintain the spirit of the holiday, which commemorates the exodus of Jewish slaves from Egypt, who in their hurry to flee did not have time to bake bread that rose, resulting in what we know today as matzoh. With these limitations, it's no wonder that making desserts during Passover presents a unique set of challenges. Why not rise to them this year? Instead of trying to replicate a light and tender cake crumb with the leaden likes of matzoh meal, try focusing on year-round desserts that taste great without the need for extensive transformation.
Universally crowd-pleasing, flourless chocolate cake, so rich, dense, and fudgy, epitomizes this way of thinking. Add a touch of intrigue to your seder with a version that hints at orange and cardamom. Or serve a creamy Burnt Caramel Pudding, which flawlessly straddles that fine line between bitter and sweet. For something more refreshing, try Lemon Posset, an unassuming, old-fashioned English dessert with a craveable tang that belies its simplicity.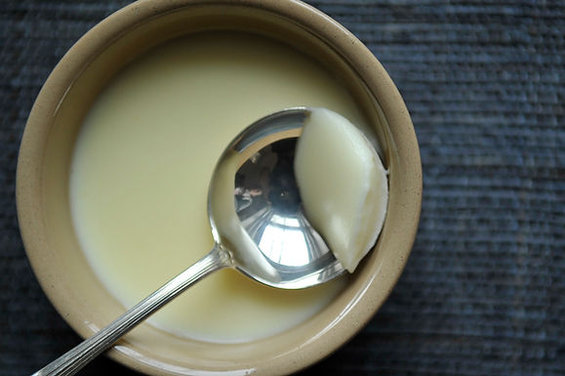 Lemon Posset [FOOD52] (photo by Sarah Shatz)
If you are planning a menu that highlights chicken matzoh ball soup or brisket, and you're mindful of the dietary laws that forbid the combination of meat and milk in the same meal, consider a top-notch, non-dairy (pareve) chocolate your best friend. Let it shine, like any good bff, in an alchemist's dream of a mousse that relies on just two basic ingredients: chocolate and water. Chocolate is also a natural in a supporting role alongside fruit, which provides both a dairy-free and lighter option to cap off a meat-based meal. Try Spicy Chocolate-Dipped Pineapple with Sea Salt, skewered into playful pops that offer a fun if nontraditional example of this approach. Chocolate-Dipped Figs with Almonds are more subdued, but no less delicious.
For anyone keeping track, it seems the rules for keeping Passover change with every passing year. There are certain ingredients, though, that are widely viewed as no-nos but may not be immediately obvious:
Confectioner's sugar: Regular confectioner's sugar contains cornstarch, which is not permitted during the holiday. Luckily, kosher-for-Passover versions made with potato starch are now commonly available.
Soymilk: Legumes are prohibited for many during Passover. This includes all soy-based items. Use almond milk as an alternative.
Vanilla extract: Since vanilla extract is made with fermented alcohol, it is not allowed during the holiday. Kosher-for-Passover versions are available in some areas, but they usually aren't very good. Instead, try experimenting with vanilla beans. About an inch of whole bean equals one teaspoon of extract. Vanilla sugar, made by scraping the seeds and burying them (along with the stripped bean) in granulated sugar for a few days can also be used as a replacement for some of the white sugar in a recipe. Or omit the vanilla entirely and add a bit of citrus zest.
Canola oil: This is made from rapeseed, which is typically not considered kosher for Passover. Use vegetable or safflower oil instead.
There are numerous recipes that can be minimally adjusted to become Passover-friendly. Exemplifying this are a Butternut Custard Pecan Pie and an apple pie featuring nut crusts that represent useful wheat-free baking alternatives. And of course, no Passover would be complete without macaroons. A spin on a nostalgic favorite, almond meal-based "Oreo" Macaroons offer up the perfect antidote, along with a cold glass of milk, to matzoh malaise, which usually hits around day five. And chewy, delicately-spiced Coconut Macaroons with Cherries and Hazelnuts sooo don't taste like the cloyingly sweet kind from the canister. Go ahead -- triumph over those scary Passover dessert flashbacks and create enticing new sweets this year.
How will you satisfy your sweet tooth this Passover? Share your ideas, tips, and tricks in the comments section below!