Raised on her family's farms and imbued with the shrewd kitchen wisdom of her Southern grandmothers, it's no surprise that Inspired Eating's Lisa Turner embraced a deep respect for food and the land at an early age. In her column, Farm Food, Lisa celebrates the clean, simple beauty of food pulled straight from the ground.
This week: Lisa unveils a surprisingly tenacious crop of arugula.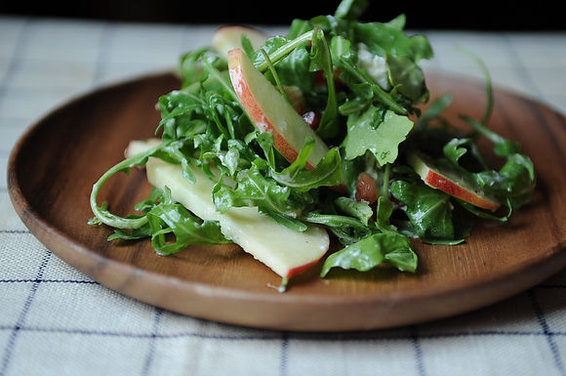 Photo by Sarah Shatz
- Lisa
Ambrosial Arugula
Last winter, rushing to beat a mighty snowstorm that laid waste to most of my yard, we fashioned a makeshift cover for my still-thriving greens garden. We drove old tent stakes into the ground, connected those with PVC pipe, then draped sheets of thick plastic and layers of moving blankets on top of the whole thing. You get the picture: pretty, it was not.
But after enduring the sight of the clumsy thing for four long months, I pulled the top off. Underneath was a small sea of emerald green, like gemstones scattered across the dirt. My tiny farm of arugula had endured the winter, in spite of months of freezing temperatures and heavy snows.
I later learned that in most parts of the country, arugula will survive the winter, so long as it's protected from extended periods of below-freezing temperatures and the weight of heavy snows that will break its tender stems. And it's a fine choice of greens to grow in abundance: like broccoli and cauliflower, it's a cruciferous vegetable, but easier to grow and more versatile than others. And like all crucifers, it contains healing compounds that protect against cancer and have anti-inflammatory properties in the body.
Next fall, with some preparation and help from the experts, we'll make an adequate cover -- one that doesn't reveal my lack of expertise and experience. This year, we're feeling pretty smug about having a full crop of greens in March. Here's what we did with them:
Arugula, Sugar Snap and Green Pea Salad with Basil-Mint Dressing
Peas and mint are the stars in this recipe, and their sweet and aromatic flavors complement the arugula's spicy tang. Swap baby spinach leaves for half of the arugula for a milder backdrop to the other ingredients, or toss in chopped leaf lettuce.
Serves 4
6 cups baby arugula leaves
1/2 pound sugar snap peas, trimmed
1/4 cup olive oil
2 tablespoons lemon juice
1 tablespoon minced shallot
2 tablespoons minced basil leaves
1 tablespoon minced mint leaves
1 cup frozen green peas, thawed to room temperature
3 cups baby arugula leaves or baby spinach leaves
See the full recipe (and save and print it) here.
Arugula-Peach Salad with Pistachios
The spicy bite of arugula marries well with sweet fruits; you can substitute apricots, plums, or other stone fruit as available in your area, or use dried apricots. Swap macadamias for the pistachios, and add baby spinach leaves to cut the intensity of the arugula for a milder, more kid-friendly salad.
Serves 4
1/2 cup unsalted natural pistachios
2 tablespoons white balsamic vinegar
1 small shallot, finely minced
2 tablespoons finely minced basil leaves
3 tablespoons extra-virgin olive oil
6 cups packed baby arugula leaves
1/2 of a small red onion, very thinly sliced crosswise into rings
2 large, firm peaches, pitted, cut into quarters, and thinly sliced crosswise
See the full recipe (and save and print it) here.
Arugula Salad with Fig and Thyme Vinaigrette
This recipe uses a fig jam, which we used to make from the buckets of fresh figs we gathered on the farm. Our quick, year-round version here uses dried figs for fast prep and year-round availability. Feel free to substitute any good fig jam or preserves, and use fig balsamic vinegar if you can find it in your area.
Serves 4
2 tablespoons Quick Fig Jam, or jam of your choice
2 tablespoon balsamic vinegar
1 tablespoon fresh thyme leaves
3 tablespoons olive oil
1/2 cup coarsely chopped walnuts
8 cups loosely packed baby arugula leaves
1 small red onion, very thinly sliced crosswise
Shaved Manchego cheese (optional)
Quick Fig Jam:
1 cup chopped dried figs
1/2 cup apple juice
1 cup water, divided
See the full recipe (and save and print it) here.
Like this post? See Lisa's previous topic: Collard Cravings.
Lisa is a food writer, cooking instructor, nutrition consultant, and Psychology of Eating coach in Boulder. She's written five books and hundreds of recipes and articles for national and local magazines; developed the Inspired Eats iPhone app; and co-founded Boulder Soup Works. In her consulting business, Inspired Eating, she works with individual clients, groups, and corporations to help them create healthy eating patterns.