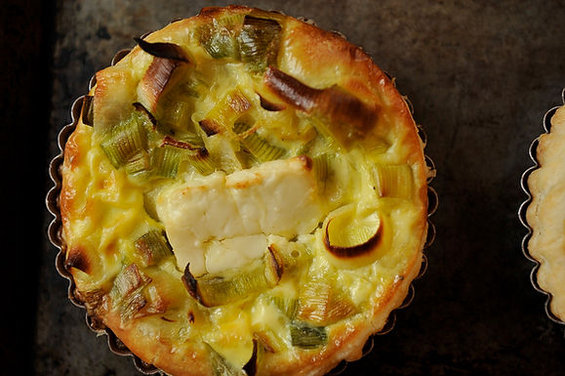 Photo by Sarah Shatz
A regal yet supremely simple preparation, quiche is the perfect anchor for a classic Mother's Day brunch (pair it with our favorite spring "bouquet").
Not only does quiche set up beautifully for a tidy one-slice meal, but it's the ideal dish when Sunday calls for breakfast in bed -- no teetering Benedicts, no bowls brimming with cereal milk. Prepare the dough, chop the filling ingredients, and whisk the liquids the night before (even prebake the crust), then sleep in and bake the quiche while the coffee is brewing. With this primer up your sleeve, you'll have plenty of time to concentrate on the other details of the day -- like how to get your delightfully full family out of bed.
Crust
A toothsome short dough provides the foundation for a memorable quiche. Some fun variations include using puff pastry or even hash browns to build the border.
Cold, high-quality butter will yield a flaky, tender bite.
Refrigerate the dough for at least one hour before rolling.
Prebake the crust until just cooked (not browned), so it remains firm and crisp after adding the wet filling.
Experiment with flavorings for the dough -- mix grated nutmeg or a few pinches of Parmesan into the crust prior to baking.
Custard
A quiche's filling should be rich and silky, but not so heavy as to mask the other elements of the dish.
Combine eggs and cream at a ratio of 3 eggs to 1 cup of cream (half-and-half or milk work well, too).
The custard is set when its center still jiggles slightly -- this should take about 30 minutes at 400°F.
Fillings
Quiche is the ideal vehicle for spring's delicate vegetables.
Ramps, asparagus, and English peas benefit from a quick sauté (or blanch) and cool down before being added to the custard.
Cheeses like Gruyère, cheddar, goat cheese, and feta may be mixed with the other filling ingredients, strewn on the crust before the fillings and crust are added, or sprinkled atop the filled quiche prior to baking. Whatever method you choose, plan on adding about one cup of cheese.
Add heft with crumbled bacon, cubed ham, roasted mushrooms, or smoked salmon.
Mix in snipped chives, torn mint leaves, dill, or chervil -- herbs help to balance the richness of the custard.
Perk up taste buds by adding citrus zest or a splash of apple cider vinegar.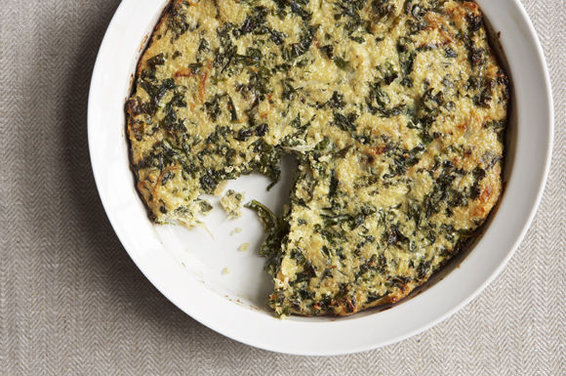 Photos by Joseph De Leo (left) and Alicia Sokol
Recipes
Mushroom and Gruyère Quiche (pictured above, right)
Leek, Lemon, and Feta Quiche [FOOD52] (pictured at top of page)
Quinoa and Kale Crustless Quiche [FOOD52] (pictured above, left)
Beloved Greens Quiche [FOOD52]
Roasted Butternut Squash, Prosciutto, and Sage Quiche [FOOD52]
Green Eggs and Ham Quiche [FOOD52]
What are your favorite quiche fillings? Share your cooking tips and techniques in the comments section below.
Like this post? See last week's From Scratch topic: Low Oven Magic.