Raised on her family's farms and imbued with the shrewd kitchen wisdom of her Southern grandmothers, it's no surprise that Inspired Eating's Lisa Turner embraced a deep respect for food and the land at an early age. In her column, Farm Food, Lisa celebrates the clean, simple beauty of food pulled straight from the ground.
This week: Lisa revs up her kitchen in time for plums' fickle season.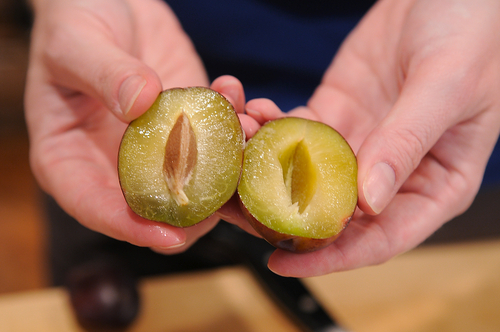 Photo by Melanie Einzig
- Lisa
Plum Passion
Two years ago, our plum trees produced so many fruits we were reaching up into the branches and pulling them down by the bushel. Plump, juicy, as purple-black as a midnight sky, they were heavenly. We made tarts, pies, jam, butter; we grilled them and ate them by the handful. We didn't think it could get any better.
Last year, we were impossibly enthusiastic for our plums to appear. We planned pies and fragrant tarts, and we eagerly waited. And waited. And waited. But by the middle of July, when nary a fruit had graced the tree's branches, it became apparent that I'd have to seek other sources. So one day, determined to have plums, I took off down the trails of Boulder, and found more than a dozen wild trees groaning with rosy plums. Different from the dark purple variety on our trees, they were smaller, juicier, even sweeter than ours.
Those that made it home in my backpack I made into jams and muffins and tarts. But mostly, my foraging friends and I sat under the branches of the wild plum trees and nibbled on fruit until we were giddy.
No matter which variety you choose, plums are loaded with antioxidants and fiber, and both help to increase the body's absorption of iron. Any type of plum will work in the recipes that follow. But there's something about foraging for -- and actually finding -- your own that adds to the sweetness of the experience.
Plum Tarts with Oat and Nut Crust
Use any gluten-free flour mix that appeals to you, or experiment with your own using a combination of gluten-free flours from the bulk department. For the best results, be sure your butter or dairy-free butter substitute is very cold!
Makes 6 tarts
1 cup gluten-free flour mix or whole-wheat flour
1/2 cup old-fashioned oats
1/2 cup raw walnuts
2 tablespoons unrefined cane sugar
1/8 teaspoon salt
3 tablespoons pastured butter or butter alternative, unsalted
4 California black plums
6 dried black figs, chopped small
1/2 cup raw macadamia nuts
6 tablespoons crème fraîche, vegan sour cream alternative, or dairy-free coconut ice cream
See full recipe (and save and print it) here.
Wild Plum Butter
This delicious spread freezes well, so if you have access to abundant plums, make several batches and freeze for winter. Adding prunes to the mixture speeds the cooking process and adds more sweetness. You can also just eliminate the prunes and add another 1 1/2 cups of fresh plums, and then a bit more honey if needed.
Makes about 1 1/2 cups
1 pound plums or wild plums, pitted
1/4 cup apple juice
1 cup pitted dried plums (prunes)
1 tablespoon honey (optional)
See full recipe (and save and print it) here.
Arugula Salad with Grilled Plums and Goat Cheese
Crunchy, peppery cashews blend nicely with the sweet, tender plums. If you eat dairy, goat cheese or Stilton will also add interesting contrast to this fresh fruit salad.
Serves 4
4 ripe but firm plums
3 tablespoons balsamic vinegar
2 tablespoons plum jam or other fruit jam
1/4 cup plus 2 tablespoons olive oil
1 tablespoon coconut oil
1/2 cup raw cashews
1/2 teaspoon black pepper
4 cups baby arugula leaves
4 cups baby spinach leaves
1/4 cup basil leaves, coarsely chopped
1/2 small red onion, very thinly sliced
See full recipe (and save and print it) here.
Like this post? See Lisa's previous topic: Buxom Blueberries.
Lisa is a food writer, cooking instructor, nutrition consultant, and Psychology of Eating coach in Boulder. She's written five books and hundreds of recipes and articles for national and local magazines; developed the Inspired Eats iPhone app; and co-founded Boulder Soup Works. In her consulting business, Inspired Eating, she works with individual clients, groups, and corporations to help them create healthy eating patterns.