This Week with Lindsey
From Our Cooking Coach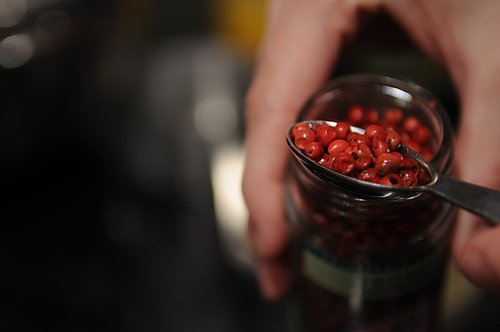 Photo by Sarah Shatz
- Lindsey
Pink Peppercorns
So often overlooked in everyday pepper mills, pink peppercorns have a distinct beauty all their own due to the wide range of flavors they complement. Pink peppercorns pair well with foods that are sweet and light, and hearty and rich.
It is commonly debated which of two varieties are "true" pink peppercorns. Since these plants are so pervasive and found in temperate zones around the globe, many cultures have lovingly tailored dishes to their unique taste and versatility. There is a pink peppercorn "berry" which grows on a hearty shrub, as well as a pink peppercorn from the same vine that produces green, black, and white peppercorns.
My favorite pink peppercorns are organic and come from South Africa, where in the last several years, organic farming has allowed for soil regeneration to occur in previously depleted regions. This change has made organically grown food more accessible and has positively impacted the communities that have been able to source the spices. Since instituting the "Organic Freedom Movement" within South Africa, there has been a surge in job creation, and it is predicted as many as 100,000 jobs could be created for people in the region by the end of 2014. Learn about the Whole Planet Foundation's efforts to create jobs in South Africa here.
Join me in the Cooking department where we will explore the versatility of pink peppercorns!
This Week's Cooking Demo
Stop by on Thursday from 4:30 - 6:00 pm for a demonstration of my favorite pizza recipe: Pizza with Artichoke, Lemon, Arugula, and Pink Peppercorns.