From Scratch: Spring Herb Primer
From The Cooking Department

Photo by Joseph De Leo; styled by Mariya Yufest
Spring brings with it an abundance of much missed green. Though many soft, seasonal herbs are available year-round, they're at their peak in spring. Explore some of the most common varieties below and check out how to prep them. Then mix and match your favorites to create your own seasoning bouquet for broths, vinegars, fresh rubs, creamy dips, and numerous other applications.
Chervil
Part of the herb blend fines herbes with fellow spring herbs tarragon, parsley, and thyme, chervil tastes similar to parsley with a soft licorice undertone.
Particularly divine with eggs, chervil also plays well with salmon, fresh cheeses, and leafy greens.
Chives
With a mild onion essence, chives pair well with creamy sauces and dips calling for a lively pop of green.
The thinnest chives have the most subtle flavor.
The stems' purple blossoms are also edible and serve as a vibrant addition to spring salads.
Dill
Feathery dill lends its sweet, anise-like flavor to everything from Mediterranean seafood to Russian borscht.
Dill weed is best used as a full-flavored garnish or last minute addition as it will rapidly lose its signature flavor when heated.
The fresh herb and its seed commonly flavor pickles.
Marjoram
Like its near-doppelgänger, oregano, marjoram's smooth, sweet leaves are an excellent match for buttery new potatoes and lamb. But unlike oregano, it's best used at the end of preparations, off the heat.
Marjoram excels in lemony salad dressings and is especially pleased when the anointed salad includes salty feta and red onion.
Oregano
This hearty perennial herb is one of the first to return when the weather warms.
Oregano's fuzzy leaves help distinguish it from look-alike marjoram.
The fresh herb is pungent, earthy, and perfectly suited to roasted chicken and tomato-based soups and sauces.
Parsley
Don't even think about relegating parsley to superfluous plate decorations. This peppery herb has much more to offer -- just consider its integral role in bouquets garni (alongside its fellow spring herb, thyme).
Parsley is hardier than its other spring companions and tolerates heat well, so consider adding it to fresh herb rubs for meats, inside the cavity of whole grilled fish, or even homemade herb jam.
For a more delicate approach, add picked leaves to salads or minced parsley to vinaigrettes.
Tarragon
Mix anise-like tarragon into chicken salad, or infuse white wine vinegar with a few sprigs and whisk into salad dressings.
Tarragon's tender, delicate leaves bruise easily, so handle them with care and add to recipes at the last moment.
Thyme
Thyme's tiny leaves offer a pleasantly musty mint flavor with soft lemon notes.
Keep an eye out for lemon or orange thyme varieties, which lend themselves nicely to herbed shortbread and other sweet preparations.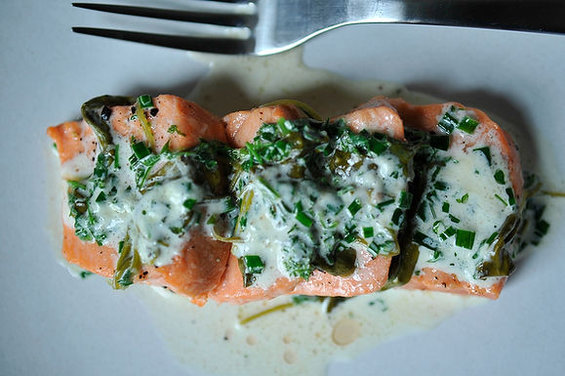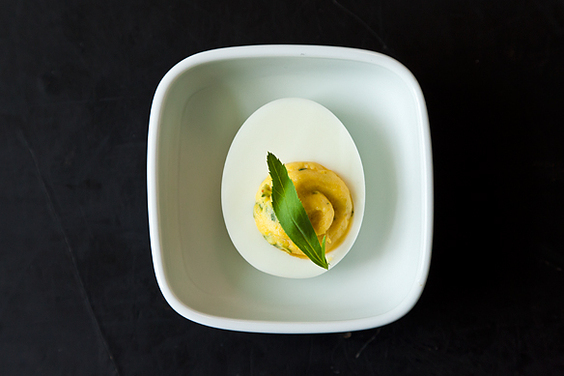 Photos by Sarah Shatz (left) and James Ransom
Recipes
Chicken and Grape Salad with Cashew-Tarragon Dressing
Tea Thyme (& Bourbon) Soda
Garlic-Roasted Fingerling Potatoes with Buttermilk-Yogurt Herb Dressing
Salmon in Sorrel Sauce [FOOD52] (pictured above, left)
Virginia Willis' Deviled Eggs [FOOD52] (pictured above, right)
Like this post? See last week's From Scratch topic: Learn to Make Quiche.